iBeacon Technology
Create meaningful and relevant connections with your customers by delivering messages and content straight to their phone.
What is iBeacon?
iBeacon is Apple's implementation of Bluetooth Low Energy (BLE) wireless technology to create a different way of providing location-based information and services to iPhones and other iOS devices.
Think of iBeacon as a lighthouse. Lighthouses send out beams that help ships navigate to their destination. iBeacon transmitters broadcast radio signals (like the beam of a lighthouse) that allow compatible devices to detect these signals and understand what is nearby.
When paired with your store's app, you're able to deliver a form of interaction to your customers - a coupon, additional product information, etc. - based on their location and proximity to a beacon.
Benefits:
Increase in-store visits with enticing messages and content
Drive sales by providing customers with timely, relevant and useful content
Enhance customer loyalty by delivering amazing customer experiences
Analyze customer behaviour and trends to develop unique, value-added experiences for each customer
Strengthen relationships with customers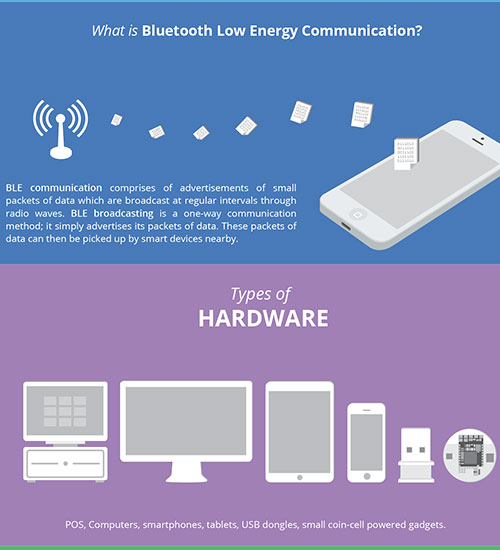 Offline
Physical Location
Customers enter, exit, linger, or go closer to your proximity region. Their offline position in the real world would lead to...
Digital
Online Attraction
Customers' relative position triggers the SDK to awaken their device and prompts the execution of the device or server side action...
Resulting
Action Offline
This could then lead to real world action taking place. For example, the concierge proactively welcoming a VIP or the redemption of a coupon delivered in the 'Online' phase.
Lifetime Customer Engagement
Combine the benefits of your app + Passbook to capitalise on each aspect of a beacon's proximity.
1. Entice
Deliver an enticing push screen notification when customers are near your store that encourages them to visit.
2. Inform
Automatically deliver additional product information or a coupon to a customer when they are nearby a product.
3. Transact
Confirm a transaction or event at this range to help facilitate purchases or redemption of points.
4. Retarget
When customers leave your store, send them a coupon or content to increase repeat visits and loyalty.

Using iBeacon Without an App
To take advantage of all the wonderful features of iBeacon requires your business to have an app. In order for your customers to receive direct messages, location information, and promotions based on their proximity to your beacon, your customers would need to download an app to unlock these benefits.
If your company currently does not have an app and is not planning to develop one in the near future, you can still use iBeacon in your business.
Simply create a Passbook Pass with our Pass Designer, input your beacon details and an accompanying lock screen message for that beacon, and deliver the pass to your customers.